LT MCC Control Panel Manufacturer, Exporter in Mumbai, India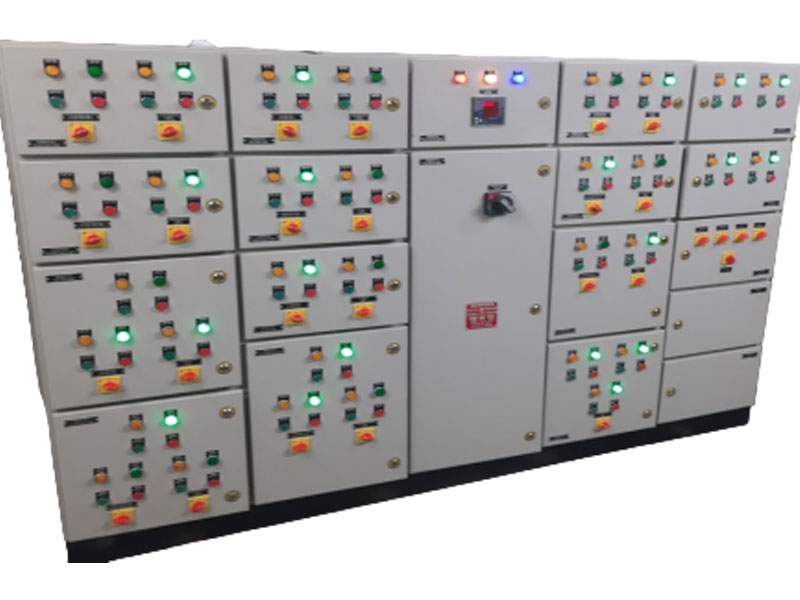 A motor control center (MCC) is an assembly to control some or all electric motors in a central location. It consists of multiple enclosed sections having a common power bus and with each section containing a combination starter, which in turn consists of motor starter, fuses or circuit breaker, and power disconnect.[1] A motor control center can also include push buttons, indicator lights, variable-frequency drives, programmable logic controllers, and metering equipment. It may be combined with the electrical service entrance for the building.
MCC's are typically found in large commercial or industrial buildings where there are many electric motors that need to be controlled from a central location,[1] such as a electrical room.
Each motor controller in an MCC can be specified with a range of options such as separate control transformers, pilot lamps, control switches, extra control terminal blocks, various types of thermal or solid-state overload protection relays, or various classes of power fuses or types of circuit breakers. A motor control center can either be supplied ready for the customer to connect all field wiring, or can be an engineered assembly with internal control and interlocking wiring to a central control terminal panel board or programmable controller. Motor control centers usually sit on floors, which are often required to have a fire-resistance rating. Fire stops may be required for cables that penetrate fire-rated floors and walls.
Features
Constructional Features

Busbar
Droppers
Auxiliary busbars
Unit compartments
Cables

Design Features

Control circuits can be tested. Power contacts disconnected.
Both power and control contacts disengaged.
Can be withdrawn for routine maintenance.
All-round access to all components without removing the module.

Safety Features

Busbars and droppers are provided with heat shrink PVC sleeving.The heat curing process ensures no voids or pinholes. Except at the tap-offs and stab-in contact plates, the busbars are completely covered with insulating material. Sleeving also protects busbars against accidental contacts with hardware, tools and vermin. 'Click-fit' joint shrouds are provided to cover tap-offs and fish-plate joints. Thus short circuits between phase and neutral or earth is virtually eliminated in the bus zone. The heat shrunk PVC sleeving is provided in addition to the large clearances in the busbar zone.

Merits

Secondary insulation protects against accidental contact with hardware, tools and vermin.
Restricts the arc, in case of a fault, to the zone of initiation.
Make our company switchgear use in LTMCC Panel given below
L & T
Siemens
ABB
Schneider
Havells
LS make
C & S Electric
Elmeasure
Applications
Low Voltage Motor Control Centre Panels are used for 3- phase alternating current (AC) motors with voltages ranging from 230 V to less than 1000 V. MCCs of medium voltage are used for large motors requiring 1000 V to 15000 V.